Julyfest 2019 -
Fri, Sat and Sun 12~14 July 2019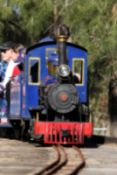 Julyfest is on again at the Sydney Society of Model Engineers in July 2019 at 'Model Park', Luddenham, NSW.
An invitation is extended to all members of AALS affiliated clubs and bone fide visitors to come and enjoy yourselves for the weekend.
Sorry, this is a members-only event and CLOSED to the general public.
Non-stop running from early morning till the [cold] early hours.
Unpowered camping on site available.
Contact us if you have any questions