Julyfest 2020 -
Fri, Sat and Sun 10~12 July 2020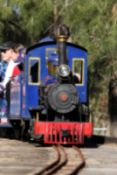 Julyfest is on again at the Sydney Society of Model Engineers in July 2020 at 'Model Park', Luddenham, NSW.
CANCELLED
due to COVID-19 restrictions
An invitation is extended to all members of AALS affiliated clubs and bone fide visitors to come and enjoy yourselves for the weekend.
Sorry, this is a members-only event and CLOSED to the general public.
Non-stop running from early morning till the [cold] early hours.
Unpowered camping on site available.
Contact us if you have any questions