Boulder Creek Tramway
The Boulder Creek Tramway is a private 71/4" (184mm) gauge miniature bush railway that is currently under construction at Howden, approximately 15 minutes south of Hobart in Tasmania. The completed railway will consist of approximately 1100 metres of track with a full lap being around 1.6 km long. Featuring a 22 metre long tunnel and several bridges, a steep and winding track means the railway will never resemble a main line in miniature, but is more of a narrow gauge bush tramway hence the name "Boulder Creek Tramway". Due to the lay of the land, a conventional circuit or loop track is not possible therefore the track is of a point to point design with a reversing loop at each end to allow continuous running. Several stations will be situated along the length of the track and will include passing loops and eventually some form of signalling. See track plan.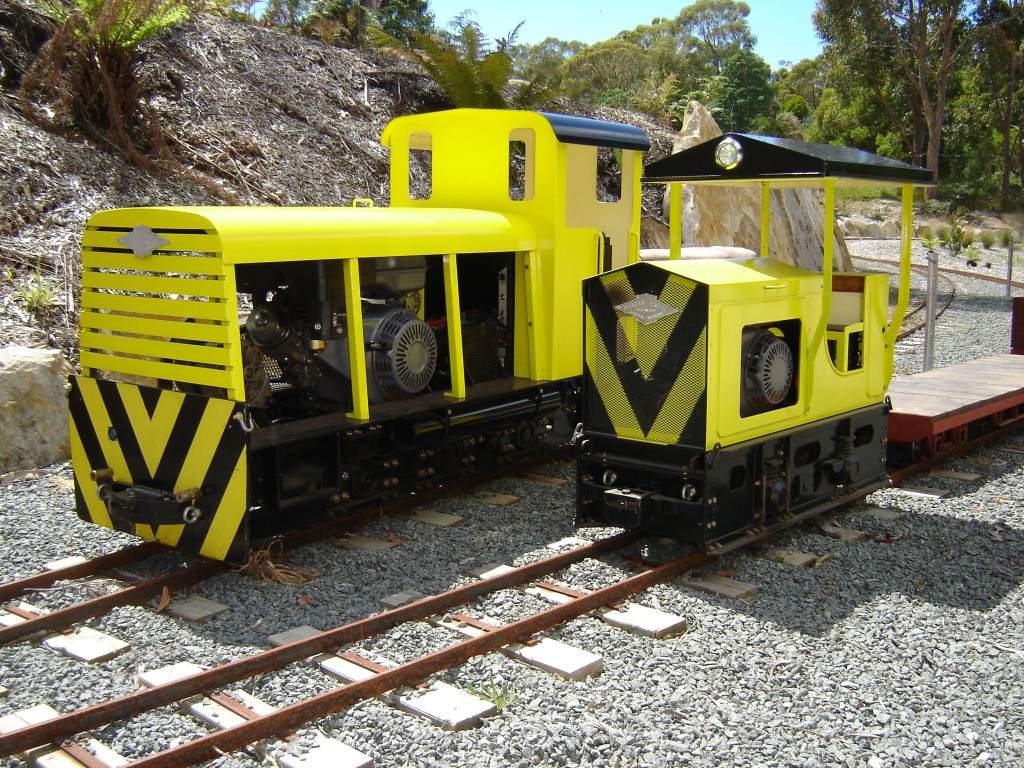 The theme behind the Boulder Creek Tramway is for it to be a 1/3rd scale miniature of a typical two foot gauge Australian bush railway / tramway in the transition era between steam and internal combustion forms of motive power. That being said, anything that is built to 71/4" gauge is welcome to run here and regular running days are now held once a month. The facilities for loading and unloading are to be constructed along with a suitable storage shed for locos and rolling stock.
Construction so far has seen the laying of approximately 650 metres of track including 14 sets of points, the construction of the tunnel and the bridge crossing the dry creek bed of "Boulder Creek".


Click here for a video
of the track at the "Boulder Creek Tramway" Nov. 2011.
Boulder Creek Tramway locos so far consist of a 1/3rd scale, Malcolm Moore 0-4-0 petrol loco as used at the Ida Bay Railway in Tasmania's far south, and a 1/3rd scale Bundaberg Jenbach loco as used on the sugar cane railways in Queensland.
The Malcolm Moore locos were built for the Australian Army and were powered by a side valve Ford V8 engine driving through a 4 speed gearbox and then a reversing box. The miniature version is powered by a 5.5hp engine driving an alternator which in turn powers an electric traction motor. More on using alternators to power traction motors can be read here.
The Jenbachs were the first Australian built diesels used on the sugar cane railways and were powered by a Gardener engine driving through a mechanical transmission and reversing box. The three miniature versions, one of which has been sold and the last which is currently for sale, are powered by a 13hp engine again driving an alternator which powers an electric traction motor.
Parts are also being collected for a 1/3rd scale EM Baldwin loco as used on the Queensland sugar cane railways, and a 1/3rd scale Hagans J1 articulated steam locomotive which ran on the "North East Dundas Tramway" on Tasmania's West Coast, home of the famous K1 Garratt.
View the Gallery for pictures of the construction of the Boulder Creek Tramway and locos, and the About page for further details on the Boulder Creek Tramway.
Many thanks to:
L & J Shadbolt Earthmoving
Greenwood Pine
Updated: 23 Dec 2012




Page views: 29,352


Now viewing: 3
Text and photos Copyright © 2008-2013 Dave Webb, All rights reserved.
Created by deeja Oct 2008