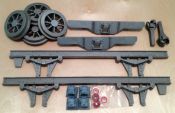 Click to enlarge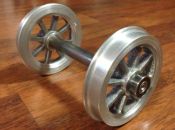 Click to enlarge
Underframe chassis kit to suit most NSWGR 4-wheel freight stock including CW cattle wagon and CV/ABV covered wagon and S trucks.
Underframe kits include Sandberg cast aluminium underframe/headstocks, Railcraft NSWGR or plain axleboxes, high quality roller bearings, cast aluminium wheels and cast aluminium dummy knuckle couplers. Natural finish.
Option 1. Kit requires assembly and machining of wheels.
Option 2. Option 1, with the addition of fully machined ready-to-roll wheelsets.
Please indicate desired option when ordering.
Part No.:
332003 (Opt 1) / 332004 (Opt 2)
Price:
(No shipping)
$260

(Opt 1)

/ $471

(Opt 2)

Shipping:
$ 20.00 pp&h within Australia
Contact for details to other destinations.
Delivery:
Approx 4~6 weeks
Weight:
approx 3 kg / 4.5 kg
Manufactured & Supplied by Waratah Railway Workshops