Concrete Sleepers
Background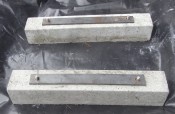 Photo 1. Concrete sleepersTradionally sleepers (ties) have been wood, usually hardwood, but there are a number of reasons to consider alternate materials. Sleepers made from recycled plastic have also been used successfully, but other materials can be used too. In particular concrete is used increasingly in full size practice, and there is no reason why these techniques cannot be used in miniature railways.
Building track is hard work! And once is has been done you do not want to spend all your time doing track maitenance and the expense of operating trains. And there are ways to minmimise maintenance. Some of the more important ways have to be taken into account when first building the track.
Drainage: It is critical that any track has good drainage. Poor drainage = more maintenance. The road bed accumulates silt/mud and ceases to be a load bearing substance. Accumulated water accellerates rot (in wooden sleepers) and promotes rust on steel rail. The rail also goes out of alignment much faster.
Materials: Untreated wood usually has a poor life span. Suitable hardwoods, woods soaked in oil or creosote (now banned), and pressure treated woods will all eventually rot, and softwoods rot very quickly. Wood has less than about 7-10 years expected life, with some hardwoods reaching 15 years. Concrete goes a long way to extending life span (and reducung the amount of maintenance) for a much longer period.
Why Concrete?
There are a number of reasons to use concrete for sleepers:
Using concrete is environmentally friendly, and can be recycled at end-of-life
Expansion and contraction with temperature changes is minimal to enhance gauge stability and minimise ballast movement.
Expansion and contraction with moisture is virtually zero
Concrete sleepers are not affected by insect and termite attack
Concrete is very durable and lhas a very long lifetime, even when moist, and do not rot
Concrete is unaffected by the sun
Concrete sleepers does not split, warp, crack, expand, or shrink
Concrete has no grain or knots like wood which produce localised weak spots, and is usually a very uniform material
Concrete is low cost
Concrete is very easy to work with
Concrete is not flammable
Concrete is highly compatible with the underlying soil and rocks, rather then a 'foreign' material, and is environmentally friendly
No health concerns about absorbing arsenic or other poisonous wood presevatives through the skin, or problems from breathing harmful sawdust
Concrete sleepers have a very long life. Once they are used, future maintenance is reduced to very low levels, and probably won't have to be replaced within the lifetime of a railway. This equals more time running trains and less on mainenance.
Concrete sleepers are relatively economic to produce with inherently low cost raw materials
Construction Methods
After the basic design and dimensions of the sleeper is decided, you need to make a metal mould. A mould can be made from 3mm galvanised steel plate. In the photos from Walka Miniature Railway, they used moulds with 4 or 5 partitions, and made enough moulds to produce around 20 sleepers per concrete pouring. The mould manufacture was sub-contracted to the local sheet metal company.
A steel mould is required, and it is essential that the sides and ends of the mould are slightly tapered to allow removal of the completed sleeper after the concrete sets. Reinforcement bar (or 'reo' for short) is also required to both strengthen the sleeper, and to accuately position the rails. 10mm (3/8") diameter reo bars 350mm long (for 71/4"g) are used. 8mm x 55mm hot dipped galvanised bolts are welded to the reo. These bolts are used during the moulding process to hold the reo and bolts accurately into place. The reo bar is located in the middle of the sleeper (i.e. approx 30~35mm from sleeper top surface). (Drawing 2)
NOTE:- It is very important that only hot dipped galvaised bolts and nuts are used to ensure maximum lifetime! If you use indoor grade zinc plated bolts, they will rust very quickly (<1~2 years) and dramatically shorten the lifetime defeating the purpose of using concrete in the first place, and make the nuts impossible to remove. Use hot dipped galvanised nuts and bolts only.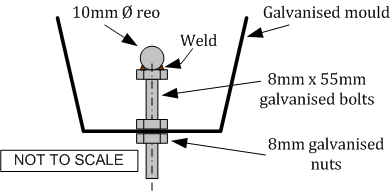 Drawing 1. Mould detail


Drawing 2. Reo fitted into mould
The reo assembly is bolted into the mould. The rail securing bolts are used to position and hold the assembly in place during pouring, and the nuts seal the holes to prevent leakage of the wet concrete.
VERY IMPORTANT:- It is very important that a release agent be painted onto the mould internal surfaces prior to pouring, otherwise you may never get the completed sleeper out. Use plenty of used sump oil applied liberally with a brush!


Drawing 3. Completed sleeper with rail bolted in place.
Dimensions
The dimesions used for the various items is listed below:-
Sleepers: 500mm long x 75mm wide (at top) x 80mm (high)
Steel reinforcment bar: 350mm long x 10mm dia
Hold down bolts: 8mm x 55mm (M8) hot dip galvanised, nuts to match
Sleeper spreader/spacer: 32mm wide x 450mm long x 3mm steel
The Production Process
The photo below show the production process from raw materials to completed sleepers. Click on photo to enlarge.
| | | | | |
| --- | --- | --- | --- | --- |
| Reo assy before welding. | Welding jig for reo assy. | Reo assy awaiting fitting to mould. | Applying release agent (sump oil) to mouds. | Mould ready for pouring. |
| Pouring concrete into moulds. | Waiting for concrete to set. | Moulding and storage area. | Removal from mould. | Removal from mould. |
| Stockpiling completed sleepers. | Completed sleepers installed at last. | Some completed trackwork. | Some completed trackwork. | Enjoying the results. |
Concrete Recipe
The recipe for the concrete mix is
6 parts fine gravel
4 parts sand
21/

2

parts cement
Cost
Cost is always an important factor. Sleepers made from concrete are bit more expensive than timber - but this has to be traded against much longer life and reduced maintenance.
The cost [as at Apr 2013] of concrete sleepers 75mm x 80mm x 500mm long is a bit less than $2.00 each. (including sand, cement, gravel, reo, nuts/bolts, welding etc). This assumes batch production.
By comparison, sleepers made from new CCA treated pine are approx $1.20 each for 50x50x500 (in bulk lengths, not cut to size). Hardwood is a bit more expensive.
Fire Resistance
The fire resistance of concrete sleepers is outstanding - they do not burn!
This article is based on information supplied by Walka Miniature Railway, Maitland, NSW and is used with permission.
All photographs from Walka Miniature Railway unless otherwise noted.